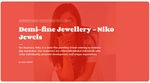 Founder's feature on GoSolo by Subkit
''Being an entrepreneur is a rewarding but challenging journey filled with ups and downs. However, it's important to note that these challenges are not unique to individual entrepreneurs, and many have faced similar difficulties in the past. This is where sharing stories and experiences can play a crucial role in creating a positive business environment for women-owned businesses.''
Our founder Niyati Mendapara shares her entrepreneurial journey of building Niko Jewels in our latest feature article on Subkit.


What's your business, and who are your customers?
Our business, Niko, is a demi-fine jewellery brand catering to modern-day wardrobes. Our customers are millennial-minded individuals who value individuality, personal development, and unique experiences. They are typically self-buyers and occasional gift seekers, with women aged 20-40 and men aged 20-52 being our primary demographic. They use jewellery as a way to express their personal moods, preferences, and opinions.
Tell us about yourself
My passion for creation was honed through my education in Accessory Design from NIFT India and Business Design from Domus Academy in Italy. Our business was born from the question of whether we truly "need" jewellery, leading us to realize that what we do need is dreams, hope, appreciation, and celebration. We create jewellery to commemorate individuality, personal milestones, and unique experiences.
I have come to understand the transformative power of jewellery - the emotions it holds, the stories it tells, and the expressions it conveys. Our passion for jewellery and desire to make a positive impact on the world drives us each day. Our goal at Niko Jewels is to uplift local communities, particularly women, through our collaborations and contributions to organizations working towards meaningful change. We believe that the act of creation has the power to make small positive contributions and bring about change, and it is our mission to make the world a better place through our jewellery, one piece at a time.
What's your biggest accomplishment as a business owner?
My biggest accomplishment as a business owner is successfully connecting with our customers and understanding their emotions. This has been a defining moment for our business and a testament to the dedication and effort put in by our team. By being attuned to our customers' emotions, we have been able to create jewelry that truly resonates with them and provides a unique, personal experience. This level of connection has allowed us to continuously improve and provide the best possible products and services to our customers. We are proud of what we have accomplished in the past year and are motivated to strive for even greater success in the future.
What's one of the hardest things that comes with being a business owner?
One of the hardest things I have faced as a business owner is staying motivated and focused on the big picture, especially when facing setbacks or obstacles. It has been challenging to have a clear vision for my company and to be able to motivate myself to keep pushing forward, even when the going gets tough.
It has also been challenging to manage the ups and downs of the business cycle, from times of growth and prosperity to periods of economic uncertainty and slowdowns. Such time requires a great deal of resilience, flexibility, and adaptability to navigate these challenges and keep the business moving forward.
What are the top tips you'd give to anyone looking to start, run and grow a business today?
Develop a clear and achievable business plan:

 

Having a roadmap that outlines your goals, strategies, and action plans is essential for setting a foundation for success. Your business plan should clearly define your target market, competitive advantage, and financial projections.


Build a strong network:

 

Surround yourself with people who can support and guide you, from mentors and advisors to employees and partners. Networking can also help you build relationships with potential customers, suppliers, and investors.


Stay flexible and adaptable:

 

The business world is constantly changing, and being able to adapt to new trends, technologies, and market conditions is crucial. Keep an open mind and be willing to pivot your strategies when necessary. Additionally, regularly assess your business performance and make improvements where necessary.
Where can people find you and your business?
Website: https://www.nikojewels.com/
Facebook: https://www.facebook.com/nikojewelsofficial
Instagram: https://www.instagram.com/nikojewels/
LinkedIn: https://www.linkedin.com/in/niyati-mendapara-4a0305a7/