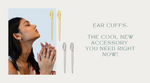 Ear Cuffs: The Cool New Accessory You Need Right Now!
Do you remember the clip-on earrings from your childhood? Well, they're back and better than ever with ear cuffs! These trendy accessories are the perfect addition to any jewelry collection. Here are 4 reasons why you should start wearing ear cuffs:
Easy-Peasy Lemon Squeezy

Say goodbye to the struggle of putting on earrings! With ear cuffs, you can simply twist them onto your ear, and voila! No more fumbling with tiny clasps or trying to find the exit. Plus, depending on your ear shape, you can even wear them as a conch earring.


 

Mix and Match

Ear cuffs are the ultimate party guests for your ear party! They can be paired with any golden or silver earrings, making them a versatile addition to your accessory collection. Perfect for adding a little extra flair to your festival look or brunch with the girls.


No Pain, No Gain?

Not Anymore! Who says you have to get your ears pierced to rock some cool ear bling? Ear cuffs are here to save the day! No need to commit to the piercing life, just try out an ear cuff and see how you feel. And if you already have a piercing, no worries, you can still wear our ear cuffs as an extra one below or above your own piercing.
In conclusion, ear cuffs are the must-have accessory of the moment! They're easy to wear, versatile, and require no commitment. So what are you waiting for? Jump on the ear cuff bandwagon and start turning heads with your stylish new accessory today!