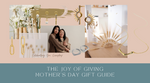 The Joy of Giving: Mother's Day Gift Guide
Mother's Day is a special occasion that has been celebrated for over a century. This day is dedicated to recognizing and honoring the incredible women who have played a vital role in our lives. They are the ones who have nurtured us, raised us, and helped shape us into the individuals we are today. On this day, people usually show their love and gratitude to their mothers by giving them thoughtful gifts.
When it comes to selecting a gift for your mother, jewelry is an ideal choice as it is a timeless and long-lasting option. It also holds sentimental value and reminds her of the unique bond you share. To select the perfect jewelry piece, you need to consider your mother's personal style and preferences.
For instance, does she prefer classic or trendy pieces? Does she like gold or silver? Would she appreciate a dainty or a statement piece? By understanding her style, you can find the perfect jewelry that reflects her unique personality and preferences.
To help you choose a perfect gift for your mother, here are some popular jewelry gift ideas from Niko's most gifted jewels:
Sunburst Earrings: These unique and stunning earrings will remind your mother of the love and light she brings to your family.



Adjustable Ring Stacker: The block stacker set is a symbolic representation of strength and is a beautiful way to celebrate your mother's resilience.



Ripple Wishbone Necklace: This necklace symbolizes hope and belief, making it an incredibly meaningful gift for your mother.



Drop Hook Earrings: Hoop earrings are a classic and versatile jewelry piece that can be worn with any outfit. They are perfect for the mom who loves elegant, classic yet unique pieces.



Evil Eye Coin Necklace: A talisman to protects her from illness, fend off evil glares, and brings her good luck. When people wear hamsa and evil eye jewelry, it encourages them to look beyond what surrounds them towards something more profound. You can utilize the evil eye's meaning to protect something close to your heart or wear it daily to ward off negativity.


Gift-giving is a way to show respect and appreciation for someone who has had a positive impact on our lives. By giving your mother a piece of jewelry, you are not only showing how much you care but also giving her a piece of your heart.

Each time she wears it, she will feel your love and affection, making it a perfect way to celebrate Mother's Day.